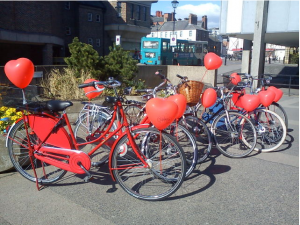 Spring is here! And Darlovelo celebrated today by bringing some of its new dutch bikes out to show off to the public. The bikes are available for long term hire for a small fee.
Darlovelo organiser Annie Ravazzolo is also leading cycle rides around Darlington over the coming weeks. They will be heading off from the Arts Centre at 2pm on Saturday 26th March and Saturday 9th April. You can bring your own bike or try out one of the Darlovelo collection of Dutch style bikes. A contribution of £2 is requested (which can be offset against membership, if you decide to join).
Its a great way to get out, meet people and learn about the cycle highways and byways of Darlington.
If you are under 16 please ensure you are accompanied by and adult.
Please contact cool@darlovelo.org if you plan to come, or log on to facebook and join the event.