Saturdays Critical Mass ride was a complete success.Not from the from the sheer number of people that didn't turn out for it but for the fact that it brought new people together and demonstrated a group of people riding bikes can promote positive reactions from non riders..Eight riders turned out,some in fancy dress,some dressed as they normally do for a bike ride.
The reasons for fancy dress were twofold,a bit of fun and also to soften the impact of a group of cyclists riding together in a busy town centre.The main reason behind the Critical Mass ride was to celebrate a birthday with a group of like minded people that have one common factor,everybody for whatever reason rides a bike.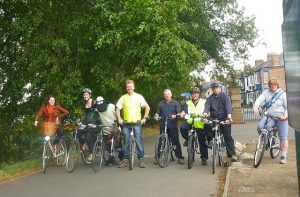 Photo by kind permission of Simon James.
The group gathered,greetings were exchanged and hands shaken.It was time for the off.A slow ride to South Park through the Pedestrian Heart and stopping briefly in the Market Square.
Making our way down Duke Street along Skinnergate turning left in Blackwell Gate and onto High Row.At this point readers may start to think how stupid can someone be to take a group of cyclists along a very busy pedestrian street on the busiest day of the week? well,I did and I am not stupid(educationally challenged yes but not stupid).But cyclists have a right to ride through the Pedestrian Heart,a right that was fought for long and hard by the Darlington Cycling Campaign,any day of the week.
The route was a cycled at walking pace,saying "hellos" and "thankyou's" to lots of people along the way.We had a "wow" factor and a really big "cute" factor and that was the in the form of a Tricycle complete with Mother and child in fancy dress,people even came up to chat to them and ask about using a Trike.And so it was that we headed on to South Park for Ice Cream and a drink.
Slowly the group broke up,other commitments,family duties,meetings to go to.Before we all drifted off we agreed on one thing,that we would do it again,soon.
So I say a big thank you to all that took part,Darlovelo,20's Plenty for Me,Darlington Cycling Campaign,Kranksbikes,Dr.Coffee's Cafe,Sally,Brian,Geoff,Mathew,Annie,Simon,Bel,Miri and Duncan.
Post Script;
As I was riding across town to meet up with the others,I noticed at the last two junctions cars had "given way" to me,stopped and let me turn when they had right of way.Making my way through North Lodge Park,several people said good morning.On arrival at the Arts CentreI thought about this and I wondered if it was because I was dressed as a Vicar.Was it the power of the cloth or the bicycle?
Duncan