The 35 kilometres from Schwerin to Wismar follows the Hamburg – Rügen cycle route, with regular glimpses of the Schwerin Lake for the first 20, and a wonderful stretch of traffic-free cycle path for much of the rest.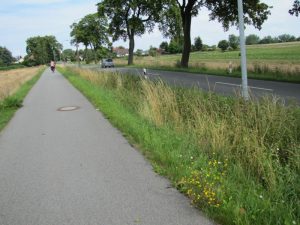 As I blogged yesterday, the cycle infrastructure development strategy relies heavily on the concept of sharing with pedestrians in villages. Our first stretch along the lake took us along a separated cycle path like this one between each village. As we approached a village, in this case Wickendorf, the path merged into a shared pedestrian/cycle path. As we left the village, the cycle path began again. There were odd pedestrians using the cycle path between villages, but this was expected and didn't cause either party any problems.
There were odd exceptions. The village of Dorf Mecklenburg had no pavement to share at the edge of the village, so both pedestrians and cyclists were on the road until the village centre, at which point it was assumed that cyclists used the road. This also happened to be the one stretch where were overtaken by two speeding cars, complete with loud disco glop blaring out the windows.
The stretch before and after said village was glorious. A long cycling-only country lane took us through wooded stretches and open fields, as we descended gently towards the sea. Then we caught our first glimpse of Wismar's shipyards in the distance.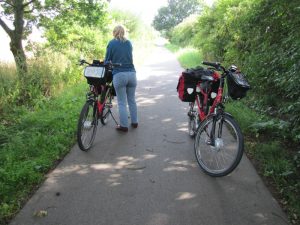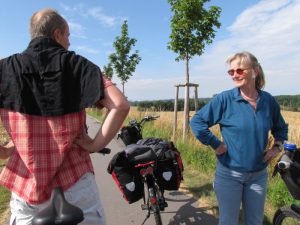 The sun was out for much of the day, but as with most of this summer in Germany, it was interrupted twice by thunderstorms, once in the early afternoon, so a perfect time for a lunch stop..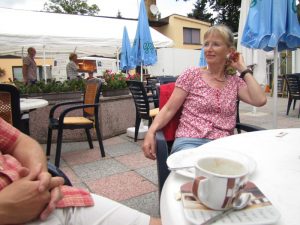 ..and later again after we had arrived at our hotel, and were parking our bicycles in the hotel garage.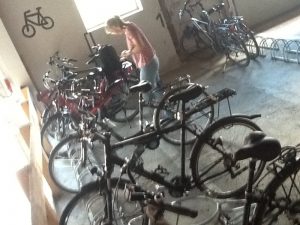 All in all, a wonderful easy day of cycling. Today we'll be pootling along the coast to Kühlungsborn, an old seaside resort, on the Baltic Sea route.
– Posted using BlogPress from my iPad
Location:Wismar