On Monday, Radio Tees featured an interview with Local Motion's Georgina Burke (from 55 minutes), asking the question "What is stopping women cycling?".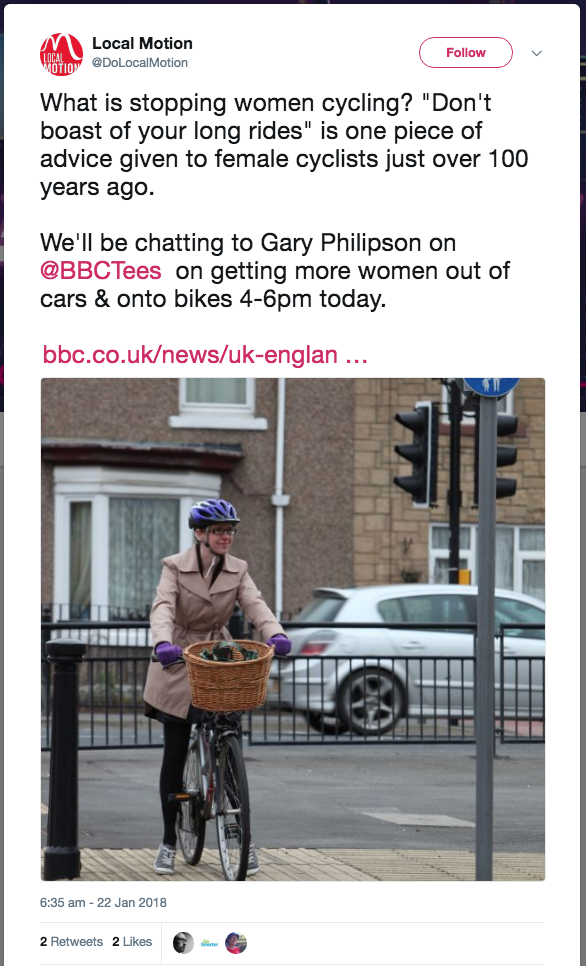 Now Darlovelo finds this particular question especially interesting, since we helped produce that award winning documentary Beauty and the Bike nearly 10 years ago, asking the very same question.

Our dutch bike hire scheme developed out of the same project. So we were very curious to compare the answers given to the question by the young women involved back then with Local Motion's answers now.
Shall we see what local government thinks are the reasons (and solutions) to low cycling participation by women?
1) They are not as competitive and don't like lycra:

Radio Tees' Gary Philipson (GP): The latest figures show a big gender divide when it comes to cycling and I wanted to know why, as a cyclist myself and what we can do about it. So I caught up with Georgina Burke from Local Motion.

Georgina Burke (GB): There are a number of reasons I think women sometimes feel guilty that they are taking time out for themselves. They might feel that that sort of cycling, the 20, 30, 40 or more miles on a Sunday morning with a big group, that is the preserve of men and they don't feel comfortable …

GP: (cross talk) But why?

GB: I think because men have fallen in love with the bike and all the sort of technical gear that goes with it.

GP: So it's the new golf.

GB: Yes, yes it is, and we've seen that in the news as well and women, perhaps they just don't feel the same way about it. Perhaps they are not as competitive, they don't feel the need to have the latest gear, the best bike, the thinest tires, the fattest back tyres, what ever it is. And they, perhaps, might feel that they don't want to squeeze themselves into the lycra, which men often do on a Sunday morning.

2) They have forgotten that short trips can be done by bike and they just need to see a few more women doing it:

I think that people have forgotten that actually cycling is not about doing the Tour de Yorkshire every weekend. Its about getting from A to B. The way to actually start cycling is to start small and look at your usual everyday trips that you do and just think 'perhaps I could do that on a bike'. Or 'I could take the kids to school with bikes'.

Cycling with children is a really great way to start because children don't want to cycle far and they don't want to cycle fast and very often its in a park which is a nice safe environment, where you can gain confidence, remember how its done if you've not been on a bike for a while and build it up from there.

GP: As you say, whenever you see an advert for a bike its all about the top pro cyclists on the Tour de France and its all how swish they can look and realistically the use of a bike could be more effective and more efficient if it was, as you say, just going to the shops.

GB: That's what we are driving for. And the more people that cycle and do the short, everyday trips, the more normal it will become to see people who are just wearing usual clothes, just normal clothes and not all the lycra and all the padding and the clip in shoes. And the more we see that the more we will feel comfortable doing it. And it will be accepted by motorists and pedestrians and it will become a much easier thing for people to get into. There needs to be a bit of a critical mass I think, at the moment it feels like its too much the other way. Its too much of an exclusive  high tech sport, rather than just an everyday kind of transport, which is what it used to be. And there's no reason why it shouldn't be again, its just a question of thinking of it in a slightly different way.

3) It might be an unjustified fear of verbal abuse:

GP: Do you think that its remarks that cyclists get? And I know it's a two way street and you know it has turned into a bit of a fight for the road. But there are a lot of remarks that get thrown out. Do you think that could be a factor as to why people don't … you know I don't need that. If I just get the bus or go in my car I'll be fine.

GB: Partly, there is that as well. Actually everybody has a right to use the road, we are all in this community and in this society together and we should all be more accepting of that.

GP: When I'm on the bike, and I get abuse, I tend to just close my ears off and crack on and do what I do. As a woman, do you think 'Look I don't need that, this is just not what a want. Maybe I could just go to the gym instead to get my exercise and I just don't need this chunter on the road'

GB: As somebody who didn't cycle for a long time and then got back into it that was something that maybe put me off a little bit to think that that could happen but I have to say its never happened to me.

4) Women need to set an example to their children and other women:

GB: I've never received that kind of chat from people, I've never received anything like that from people that would make me think, oh I don't want to do this again. And I think, particularly for my children, who see me cycling and just doing the short trips it makes them think that when they grow up, they can carry on cycling. They don't have to stop cycling because they become an adult, it's not something that just children do or men do. It's something that any body can do at any stage of their life. And I think that I want to set that example for my children, and I think every time someone sees a woman on a bicycle they think well that's another person who's making it normal.

5) Really, it boils down to gaining confidence, taking your kids to the park and joining an all women cycling group:

GP: What is the silver bullet to get more women cycling?

GB: (laughing) Now if we knew the answer to that … !

Giving women the opportunity to cycle and to build their confidence is a really important thing to do and, as I mentioned before, cycling with children is an easy thing to do. Taking the bike to the park, where its safe and there's no traffic to contend with. There are also lots of women only groups that people can look up and find out about and particularly for beginners as well. There are the active travel hubs in all of the five Tees Valley local authorities who will be able to point people in the right direction to find those groups and they may well have those groups and run them themselves.
So there we have it. Apparently infrastructure has nothing to do with it. In contrast, the women who participated in the film all those years ago had another answer. A conclusion that pretty well every cycling advocate in the UK now agrees is the key to getting women cycling :
The film summed up these findings in a simple phrase : It's the Infrastructure, Stupid. But clearly they, along with hundreds of cycling advocacy groups around the world, are wrong. So now we know!
As far as a lack of confidence is concerned, we must agree.
We have very little confidence that women, men, young or old will cycle in significant numbers until the infrastructure is in place. But then, this conclusion was also reached by the women from Beauty and the Bike just one year after the film was made…