Since the demise of local authority Transport and Cycle Forums, Darlovelo has striven to establish regular channels of contact with Darlington Borough Council's cabinet member for transport and their engineers. We now meet with politicians and officers on an informal basis to discuss progress on making Darlington more cycle-friendly. More formally, Darlovelo regularly consults with Darlington Borough Council on issues of importance to local cyclists, and in particular when new traffic infrastructure is being developed.

Nationally, we support the Cycling Embassy of Great Britain. The CEGB want to see an end to cyclists being pushed to the margins; they want to see a network of direct, well-designed, separated cycle routes that are safe even for young children to use. As they say on their website:
"Cycling should be the simplest, easiest and most convenient way to get around in most places in the UK and yet the reality is that it's not – the roads are busy and feel unsafe or unpleasant to ride on and what cycle paths there are seem to take the long way round, or run out just when you need them most.
The Dutch and the Danes have demonstrated that it is easy to provide safe, attractive and efficient routes for cycling, away from fast traffic, which anybody and everybody – men and women, old and young, and rich and poor – want to use".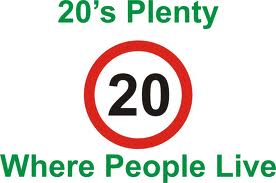 We are also affiliated to Cycling UK, and can offer members of Darlovelo a discount of almost 50% (£25 instead of £45) if they wish to join that organisation as an individual.
Locally we support the 20's Plenty for Darlington Campaign, which is calling for area-wide 20mph speed limits throughout the town.
In Britain more than half of road deaths and serious injuries occur on roads with 30 mph limits. Britain has the highest percentage of pedestrian road fatalities in Europe 22.5%.  Britain has one of the lowest levels of children walking or cycling to school in Europe.  Speed limits on Britain's urban roads are 60% higher than Europe.  (30 mph compared to 18.6 mph)
British parents consistently cite traffic speed as the main reason why their children are not allowed to cycle or walk to school.  Lowering urban and residential speed limits to 20 mph has been found to increase a urban journeys by just 40 seconds maximum, whilst decreasing child pedestrian accidents by up to 70%.
For cyclists, 20mph traffic speed limits make urban roads more cyclable. Of course, simply putting a speed limit on an otherwise unchanged road is not enough. Such a move needs to be part of a wider aim of re-humanising our streets, and reclaiming them from the motor vehicle.
Darlovelo is also working on a longer-term project to demonstrate how best practice road engineering can be applied in Darlington. Our ultimate aim is to link up those isolated examples of good, attractive cycling infrastructure in the town, address the more "difficult" points that lie between them, and help create a vision for a genuinely joined-up and attractive cycle network.