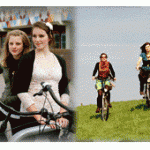 Darlovelo has grown out of Darlington Media Group's Beauty and the Bike project.

Throughout 2009, a film crew and photographer from the Media Group followed a group of teenage girls and young women, who wanted to combine style and cycling. The film was directed by Richard Grassick and Beatrix Wupperman both of whom use bikes as everyday transport. This desire to share the pleasure, convenience, and sustainable nature of cycling was inspiration for a long term bike hire scheme.
Originally called 'Velodarlo' the name 'Darlovelo' reflects the town and the cycle. With 'velo' meaning bike in French, and in Dutch flemish slang. There is also the lucky coincidence of the word 'love' hidden within it.
The grants needed to fund Darlovelo were raised in order to encourage social change in Darlington and change the way that we in Britain tend to view cycling. The project is also supported by Darlington Cycling Campaign, who help look after the bikes.