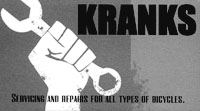 Darlovelo membership offers a range of benefits from our favoured bicycle service providers.
BICYCLE SERVICING & REPAIRS
Kranksbikes provide a qualified bicycle maintenance technician, with experience of the full range of bicycles, including dutch bikes. Servicing and repairs can be arranged on a call out basis or by appointment. You can contact Duncan at kranksbikes directly on 07576676815, or tweet to @kranksbikes. To ensure you get your darlovelo members' discount, kranskbikes will need to confirm that your membership is up to date.
Basic Service
Brakes,gears checked and adjusted,all moving parts checked including tyres and chain. Any repairs found,we will notify you with a price for parts  and await your approval.
£15 Darlovelo members price: £10
Standard service
This is a full check of your bike. All moving parts including bearings, bottom bracket, chain, gears and wheel hubs, all checked and lubricated. You will be notified if any parts need replacing or are close to need replacing.
£40 Darlovelo members price: £30
Puncture Repair
– for a standard bike (with open wheels)
£7 Darlovelo members price: £5
– for dutch style bike (with hub gears and brakes)
£12 Darlovelo members price: £9
Contact kranksbikes for pricing on any other type of bicycle repair.
MAINTENANCE COURSES – LOVE YOUR BIKE
Maintenance courses are organised as and when demand calls for them. If you are interested, get in touch and we'll register your interest with Duncan. The following 3 levels of Love Your Bike courses give a flavour of what we offer:
Know your Bike
A beginner's course showing you the basic checks and tips to care for your bike. The course lasts 2-2½ hours. Please bring your own bike or we can provide a Darlovelo Bike.
£9 Darlovelo members price: £5
Care For Your Bike
Looks at caring for the working parts, brakes and gears. Making small adjustments, replacing brake pads and the everyday workings of your bike. We also look at puncture repairs and will do a basic repair. The course lasts 2½ hours.
£12 Darlovelo members price: £9
Care For Your Dutch Bike
Dutch and Pashley Bikes are a little different from a standard bike because the brakes and gears are generally contained in the wheel hubs.
£11 Darlovelo members price: £8