The Darlovelo Family Pack
Darlovelo is here to help you bring up your children on two wheels!
Whilst children's bicycles are already very popular and easy to acquire in Darlington, moving your child around by bicycle during its first years, getting your child used to balancing on two wheels at an early age, and finding a good bicycle to help with the transition from child to adult can all be complicated and expensive. As your children grow, an expensive purchase can quickly become too small for their needs.
Our family pack tries to fill these gaps, by offering early years and late childhood equipment for hire for as little as £1 a month. Take a look at our range below, and order online using our eStore.
NOTE: There are no concessions on family pack items
Hamax Siesta Child Seat 
Hire charges: 6 months: £20; 1 year: £30
Suitable for children from around 9 months to three years old.
Maximum recommended payload: 22kg.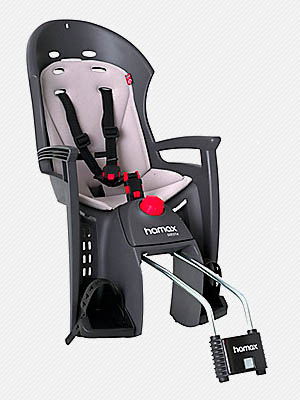 One of the best child seats on the market, the Hamax Siesta child seat's 20 degree reclining facility allows your young one to enjoy a wee nap while you pedal. Even when reclined, the Hamax Siesta has been designed to ensure the bike's centre of gravity does not move too far backwards, so the bike remains remarkably stable to ride.
The UV-stabilised polypropylene seat is specially moulded to accommodate a helmeted head comfortably. This backrest is ventilated. The Hamax Double Buckle System is secure yet easy for the parent to open and close with one hand while supporting the bike with the other hand.
This buckle can't be opened by the child. Adjustable safety harness and foot supports.
The seat's integral rack adds an element of suspension to damp road / trail shock. Check this You Tube video.
Weeride Stagecoach Foldable Child Trailer
Hire charges: 6 months: £20; 1 year: £30
Age limit – 12 months or older
Holds up to 100lbs (45 kg)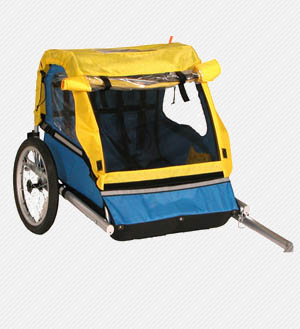 Durable frame – light and strong
Sling seat with 5 point safety harness – extra security and comfort for passengers
Compact fold – fits in the trunk and storage areas of most vehicles
Universal coupler – Trailer remains upright even if bike tips over
2-in-1 weather canopy – helps protect kids from sun and rain
Internal water bottle holders and pouches – convenient for beverages and belongings
Rear storage area – Extra room for parents to carry items
16″ Quick-release wheels – for a smooth light ride
Skiidii Foldable Cargo Trailer
Hire charges: 6 months: £20; 1 year: £30
Holds up to 40kgs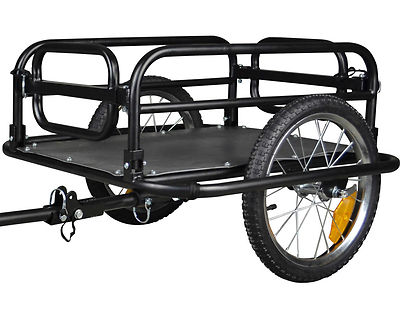 Attaches easily to any bike
Quickly collapses flat for easy storage
Stiff plastic floor adds durability
Carries more than racks or panniers
Universal coupler
Internal Dimension : 70cm x 57.5cm x 32cm
16″ Quick-release wheels – for a smooth light ride
Gazelle Cabby 2013
Hire charges: 1 week: £25; 6 months: £150; 1 year: £250
Age limit – 12 months or older
Holds up to 165 pounds (75 kg) in the front cargo area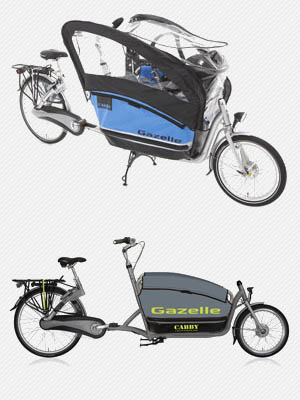 The Gazelle Cabby is a bakfiets-style cargo bike well suited to hauling kids and shopping. The patented foldable cargo area allows the bike to be stored in less space than rigid designs. The fabric side panels also reduce the overall weight and allow stored items to be concealed securely when the panels are locked together.
Lighter weight and somewhat lighter duty than our other offerings in this format, and more contemporary in aesthetic, the Cabby is a nimble performer that doesn't skimp on functionality or comfort, with its characteristic Dutch city bike features of upright seating, internal gearing, complete chaincase, generator-powered front and rear lights, built-in lock, all-weather sealed brakes, fenders, and coat guards.
Powder coated steel frame
Space for up to 2 children in front cargo area on included seat
Shimano Nexus 7 speed internal hub gearing
Shimano IM50 roller brakes front & rear
Strong 26 inch and 20 inch wheels with 2.6mm spokes
Rear rack
Schwalbe Road Cruiser tires
Adjustable handle bar stem
Optional rain cover
Wide parking stand
3 point safety belts
Hub dynamo with front halogen head light, LED battery tail light
Axa Defender wheel lock
Fully enclosed chaincase & skirt/jacket guards
Alloy crank set
Stainless steel hardware & fenders
Bell
Balance Cruiser Balance Bike
Hire charges: 6 months: £5; 1 year: £10
Suitable for children from 2 to 4 years old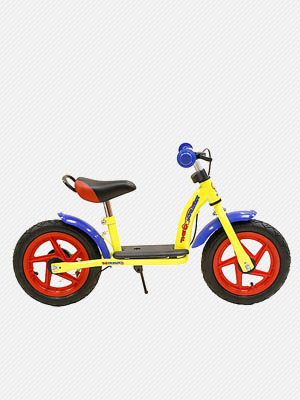 The norm in other parts of Europe, balance bicycles come without pedals, allowing for kids to learn to ride at an even earlier age with improved confidence and enjoyment. Ever more popular in this country, balance bikes let children learn the art of balancing and riding a bike naturally, without the need for stabilisers.
With a unique foot stand that's great for putting your feet on when scooting along, the Balance Crusier also comes complete with a kick stand to lean the bike when not in use. Children love the bright colours and cute monkey character on the design, whilst parents appreciate the push handle on the saddle.
Strong steel frame for improved durability
No stabilisers ensures your child truly learns to balance
Mudguards for protection from puddles, mud and dirt
Kick stand for easy storage when not in use
Adjustable padded saddle for a more comfortable ride
Rear band brake for advanced and increased control
Scoot stand to rest feet while gliding along
Gazelle Dolphin
Hire charges: 6 months: £20; 1 year: £30
Suitable for children between 8 and 11 years old
Frame size 17″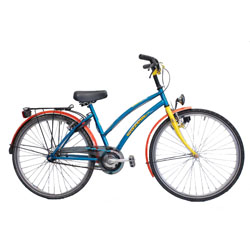 The Gazelle Dolphin bridges the gap between "child bike" and "adult bicycle". Ideally suited for children between 8 and 11 years old, the Dolphin comes with a 17″ frame and 26″ wheels. This single-speed dutch-built bicycle even has a front bottle dynamo to give kids the feel for these grown up extras. As we recommend this longer term hire to help children prepare for adult cycling, hire rates are for 6 months or 1 year.
Pashley Britannia
Standard Bicycle Hire Charges from £5 per week
Suitable for teenagers from 11 to 14 years old
Frame size 17.5″ suits 27.5″ – 31.5″ inside leg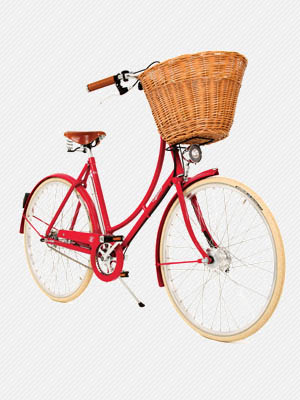 The Britannia is based on Pashley's popular Princess model (with a hand-built frame and large front wicker basket). The bold colours and model name are a nod to the company's pride in its British manufacturing heritage. The Company started in 1926 and is today the longest established bicycle manufacturer in Britain, employing 50 people at its factory in Stratford-upon-Avon. The Britannia features a traditional lugged frame and three speed hub gears, silver-lined mudguards, ding dong bell, hub driven dynamo headlamp, LED mudguard-mounted rear light, propstand, Pashley leather grips and a wicker basket.
Colour :Red
Frame: Traditionally lugged and brazed
Fork: Tubular crown hand brazed
Gears: Sturmey Archer 3 speed hub gears
Wheels: 26 inch with polished rims with cream tyres
Handlebar: Chrome plated raised bar
Brakes: Sturmey Archer hub brakes
Pedals: Alloy non slip
Saddle: Honey Brooks B67s
Tyres: Cream Schwalbe Tyres