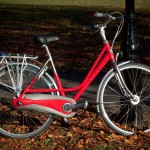 Our bikes include high end dutch style and hybrids. This means that they are perfect for a town like Darlington.

They come with a lock, lights and basket. What makes our Dutch style bikes special is you don't need to worry about things like chains falling off or getting oil on your clothes as the chain is fully covered. You don't need to change the batteries in the lights, as these are powered by dynamo. You can carry your bag, your shopping, your files in the basket. Everything about our bikes is designed to make cycling as low maintenance and hassle free as possible.
There are a variety of models and makes to suit different tastes and heights. You won't get better quality hire bikes anywhere else. Click here for more details.